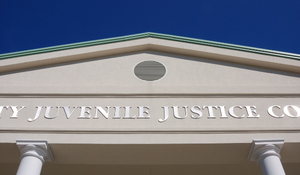 As stated in Article 40 of the Convention on the Rights of the Child:
"Every child in conflict with the law has the right to be treated in a manner that takes into account "the desirability of promoting [his/her] reintegration and [his/her] assuming a constructive role in society."
During the late 19th century social workers led a juvenile justice revolution in the United States by recognizing that children committing crimes did not bear the same level of responsibility and did not deserve the same sanctions as adults. However, by the end of the 20th century, this ideal for juvenile justice had been replaced by a system that favored punishment over rehabilitation and institutionalization over community care.
Social Work and Juvenile Justice
But the 21st century has brought a wave of reforms instituted by the social work community attempting to return to juvenile justice the core principle that "every child in conflict with the law has the right to be treated in a manner that takes into account "the desirability of promoting [his/her] reintegration and [his/her] assuming a constructive role in society."
Recognizing that social services and the justice system are separate ministries with two distinct objectives and operating philosophies, social workers constantly endeavor to find ways in which they might interface and cooperate in the implementation of children's rights. Obviously, justice systems are neither equipped nor mandated to fulfill this role alone and need to work hand-in-hand with the social sector towards this end.
Juveniles Treated Like Adults
By the end of the 20th century, a quarter of a million children were prosecuted in adult courts each year. In addition, schools became increasingly willing to use suspensions, expulsions, and police involvement to address misbehavior, leading to more youth involvement in the criminal justice system. In response, the social work community has worked tirelessly researching the negative affects adult justice has when administered to children.
1.) The research has resulted in a growing body of knowledge about brain science and child development that demonstrates what social workers argued at the beginning of the juvenile justice system—that children are different from adults and are amenable to treatment.
2.) Justice-involved youth are victimized by a variety of traumas, such as poverty-related stress, community or familial violence, parents lost to substance use disorders or incarceration, educational opportunities disrupted by suspensions or expulsions, and undiagnosed or unresolved mental health issues.
3.) Gradually, there is more understanding about the negative long-term consequences incarceration has on youth. Among the problems incarcerated youth can experience are worsening mental health symptoms, abuse from staff or other youth, and an increased likelihood of reoffending—driving them deeper into the justice system.
Ongoing Reform Efforts
The social work community continues to support youth involved in criminal justice through various initiatives:
Raise the Age - This initiative attempts to convince state criminal justice systems to increase the age when youth are automatically sent to the adult system from 16 or 17 to 18. In 2018, Vermont became the first state to allow 18- and 19-year-olds to be treated in the juvenile justice system
Diversion - Diversion has become popular with states as an effort to keep youth from entering the juvenile justice system. Diversion programs typically allow nonviolent youth to complete certain requirements, such as interventions to improve behavior and emotional functioning, to avoid being placed in the justice system. Some states and localities have decriminalized minor offenses such as truancy, underage possession of alcohol, and fare evasion.
Reducing detention - A variety of states have curtailed their dependence on detention, particularly for youth who do not pose a significant public safety risk and increased the use of community-based interventions.
Juvenile Justice Reform Act of 2018 - The act reestablishes core standards for how states and territories treat youth in the justice system. These standards include prohibiting youth from being incarcerated for status offenses such as skipping school, stopping youth from being held in adult facilities while awaiting trials as juveniles, and requiring states to address racial and ethnic disparities in the system.
Juveniles for Justice - Some social workers are empowering youth to participate in advocacy. The Juvenile Law Center's Juveniles for Justice program gives youth who have been involved in the juvenile justice system the opportunity to develop and implement advocacy projects.
Child Welfare - Another area in which social workers are getting more involved is building cooperation and collaboration between the child welfare and juvenile justice systems. Fostering connections between the systems is vital to preventing crossover of youth from the child welfare system to the juvenile justice system.
Sacred Duty
Social workers are perhaps the most dedicated child welfare advocates in our society. For them it is a sacred duty. Amen.
If you enjoyed reading this blog, then don't stop here! You can read more about Juvenile Justice/Child Welfare. Enjoy our content? Then please subscribe for instant, weekly or monthly updates!
What others are reading on The FAMCare's Blog:
Juvenile Justice...Case Closed
Social Workers Fight for Juvenile Justice...Part 2 How We Got Here
Advocating For Youth Social Workers in Juvenile Justice