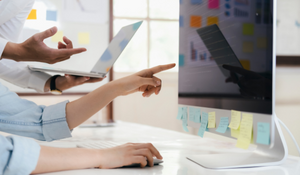 The United States has over 1.5 million non-profit organizations and a vast human services network. From child and family services to juvenile justice, veteran services, senior services, and mental health services, the United States has a plethora of non-governmental organizations (NGOs) dedicated to the betterment of humanity.
In recent years, as more caseworkers used technology to better serve their communities, digitization has grown in popularity among non-profits. If your NGO has yet to implement digital tools, read on to learn about the benefits of digitizing your operations.
Benefits of Digitizing Your Nonprofit Operations
Increases Productivity
Using case management software and other digital tools, NGOs can save up to 1-3 hours per caseworker per week, according to estimates. When viewed in a larger context, this number represents how many more hours your caseworkers will have to devote to serving more people in your community.
Improved Transparency
The finances of an NGO are not a secret. However, it is preferable to use digital tools to increase transparency among stakeholders, donors, and the community. You will be able to provide better accountability and encourage more donors to trust you with their donations if you do so.
Better Accessibility
According to Gartner, during the pandemic, 69 percent of Board of Directors accelerated their organization's digital adoption. Even though the pandemic is over, human services can continue to benefit from technology to improve worker accessibility. You and your caseworkers can access information from wherever you are to continue providing disrupted support to your communities.
Wider Outreach
Not just for managing current caseloads. Digitization can also assist non-profits in expanding their reach and catering to an increasing number of people in other marginalized communities. Technology can assist you in connecting with a global audience and producing quality work.
Compliance and Data Security
HIPAA and numerous other data security regulations impose obligations on non-profits. Moving to digital case management tools allows your NGO to boast about its high compliance standards and data security.
Digitize Today, Benefit Tomorrow
Global Vision Technologies, the developers of FAMCare, is an industry leader for social service case management software. For over 20 years we have been helping modernize agencies with our rapid case management software.
Our goal is to support your mission of providing superior outcomes for those your serve. With the provision of high-quality human services software and workforce development solutions, you can run your agency more efficiently, boost productivity, gain control of your data, manage caseloads faster, protect your data, and secure new funding -- all with significant savings of both time and money.
How much time and money can managing your cases with FAMCare save you this year?
TRY OUR FREE ROI Calculator