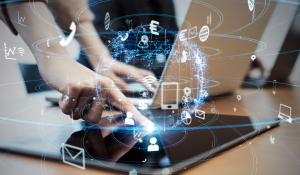 Technology is transforming American and global industries at a rapid pace. According to a 2018 report, digitization and technology were expected to create over 58 million jobs by 2022. Based on the evidence, the prediction appears to be correct.

Because of the quick adoption of technology in various industries, workforce development has also advanced. The US may have the highest prevalence of technology influencing workforce development worldwide.

Both corporations and social service organizations want their employees to be ready for the challenges and opportunities that accompany new technology adaptation. Let's look at where we can see the effects of technology in workforce development and focus on the benefits for the non-profit sector.
Technology in Workforce Development
These are three examples of how technology has impacted workforce development in the United States.
Digital Skills Are in Higher Demand
The number of jobs that demand digital skill sets has increased significantly. According to some estimates, over 70 percent of jobs now demand tech-savvy professionals compared to only 45 percent at the start of this millennium.
Technology is Fueling Skill Development
Technology is not just altering job demands; it's also catering to the need for skill-building. With tech-based tools, more professionals can acquire training and distance learning programs to improve their capabilities.
New Sectors Are Influenced by Technology
A survey showcased that over 500 sectors in the US have been affected by technology. This includes not only the corporate sector but also the human services sector, which now depends more heavily on non-profit software to streamline its operations. This influences everything from hiring to the training process.
Retraining
All sectors must address workforce retraining, but no one has felt the effects more acutely than the human service sectors, which also provide workforce development and retraining to vulnerable populations. They must not only ensure that their employees' skills are up to date, but they must also ensure that they provide usable job skills to the vulnerable populations they serve.
How Can Technology Help the Non-Profit Sector
If you're working in human services, here's the answer to how technology will help you with workforce development and expansion of services.
Tech-Savvy Case Managers
Case managers who are trained and encouraged to be more technologically savvy are better suited to assist with and adapt to the implementation of new technologies. New technologies can assist human service agencies to provide better, expanded services in their communities.
This also benefits human service organizations that deal with community workforce programs. A trained workforce will be better able to meet the needs of at-risk populations that need to be trained, retrained, or re-enter the workforce.
Improved Data Collection
Data collection can be aided by training your staff and providing them with the latest technologies in the human service field. The possibilities are endless; from field data collection to advanced reporting and queries, telling your story has never been more accurate or timely.
Reduced Redundancies and Higher Automation
The non-profit sector and its employees have been in desperate need of technological solutions to help them eliminate redundant processes. Case management software is an example of a tool that can help your caseworkers in everything from the automation of their processes and the elimination of redundancies.
Learn More About Technology in the Non-profit Sector
We invite you to explore and learn more about technology in the human service sector in the FAMCare blog. FAMCare is a leader in human service case management software. We developed a platform to help agencies improve how they manage their data and outcomes for our society's most vulnerable.
Recommended Reading:
3 Ways Technology Can Simplify a Caseworker's Routine