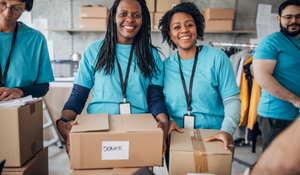 Larry Breitenstein, PhD, chair of the social work department at Slippery Rock University, remembers child protection work in Kentucky in the early '70s. "I used to carry extra canned food in my car, just in case. Almost half my families needed help with food. Food stamps were new and food banks were scarce. We had petty cash for food, but it was never enough. I almost always bought food because I never knew when I was going to find a starving kid."
The Founding of the World's First Food Bank
The United States of America is one of the most industrialized producers of food in the entire world. We are so successful at food production that every day nearly 40% of food produced in the U.S. will go uneaten or discarded.
In 1967, a compassionate man in Phoenix, Arizona named John Van Hengel came up with a simple, yet groundbreaking notion - gather food where there is an abundance and deliver it to those in need. A simple thought that no one had dreamt of prior to 1967. So, with a three-thousand-dollar loan from his church, St. Mary's Basilica, John Van Hengel secured an old, abandoned bakery in South Phoenix and opened St. Mary's Food Bank…. The World's First Food Bank.
What started out as an innovative idea to help feed the hungry has blossomed into a worldwide movement. Currently, there are over 200 food banks in the United States and hundreds more around the world helping tens of millions of people every day find their next meal and transition into self-sustainability. All thanks to a man and his desire to help those in need. Over fifty years later, St. Mary's Food Bank has distributed well over one billion meals.
Today at St. Mary's
On a recent visit to St. Mary's, we witnessed a line of cars awaiting groceries that wrapped around the building. Parking lot attendants were using orange cones to close the entrance to the food bank and keep the line from snarling traffic on busy Thomas Road while recent arrivals circled the block until the lot reopened. This is the new normal for St. Mary's Food Bank in central Phoenix as the number of people in need has risen sharply along with inflation.
"Right now, we're seeing over 900 families a day come to this one location, and we have hundreds (of distribution locations) across the Valley," said Jerry Brown, director of media relations for St. Mary's Food Bank. "The number of people who are coming to the food bank is overwhelming, and it's a number that we have not seen in our history."
At the two main food banks in Phoenix and Surprise, St. Mary's saw a daily average of 1,239 families in the first 12 days of September, the latest data available. Brown said the influx is a direct effect of inflation, which has hit Phoenix particularly hard. In the Phoenix metro, food prices have increased 14.1% over the past year, with food-at-home prices rising by 15.7%, according to the U.S. Bureau of Labor Statistics. "We've been around for 55 years, and we have never served 150,000 families a month – until last month (August)," Brown told us.
It's the People
George and Jayne have been financial donors to St Mary's Food Bank for many years. When the Food Bank lost 80% of its volunteers in the early days of the COVID-19 pandemic, St. Mary's president Tom Kertis put out a plea for volunteer help. Both recently retired, George and Jayne decided they could donate some time as well. That was more than a year ago, and they haven't stopped volunteering. The couple comes to the food bank three days a week and has fallen in love with St. Mary's mission and method of feeding Arizona's hungry. They fill grocery carts inside the services center as the National Guard loads those carts into the hundreds of cars that roll up each day.
Like Carol
Two weeks ago, we interviewed a lovely lady in her fifties behind the wheel of her late model sedan in line at St. Mary's food bank. "I volunteered here for five years and never imagined I would end up being a client. Yet here I am waiting in line for a box of food. These are tough times. Thank God for St. Mary's."
You can read more about issues/solutions for homeless/food pantry on our blog. Enjoy our content? Then please subscribe for instant, weekly or monthly updates!