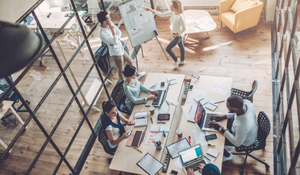 In the United States, there are over 1.5 million non-profit organizations. And, in recent years, the vast majority of them have realized the importance of digitization. Today, more than 90% of social services use the cloud, and more than 56% have considered using multiple cloud-based solutions to improve case management.
This blog is for you if your social service organization hasn't started the digitization process or has had trouble with a slow acceptance. We're going to share some tried-and-true tactics with you today that corporations have used in the past to quicken the adoption of new technology, and your nonprofit organization may now take use of them as well.
So, let's discover how to quicken the digitization process in your nonprofit. But first, let us first discuss the advantages of doing so.
Why Non-Profits Need to Digitize?
Digitalization is neither easy nor inexpensive. But there are a number of significant benefits to utilizing technology in your social service organization, and with careful design and implementation, these benefits can well outweigh the effort and expense.
Increased Efficiency
Your case managers will become more efficient by using technology such as cloud-based case management software. This is because such digital tools help case managers streamline their work, digitally store documents, and save time spent on repetitive tasks. The digitization of documents is a game changer from everything from intake, monitoring, and reporting.
Improved Collaboration
Remote work is becoming increasingly popular. If your team needs to work remote, facilitating this for your organization is much easier with a company that has already digitized their data collection process, scheduling and reporting. Remote work is not the only advantage. For example, many tasks associated with social service work can be improved with cloud-based applications, improving communications and information sharing throughout the agency.
Reduced Errors
Case management software, cloud, AI, and automation are some of the digital tools that can help you reduce errors in your casework. This can help with your agency's reports, compliance and transparency. Plus, social services agencies rely heavily on the accuracy and details of the data collected because of the vulnerability of the important populations they serve.
Expansive Caseload Capacity
If you are looking to serve a larger number of clients, then digitization is the way forward. Things such as non-profit software can help your agency increase its caseload capacity without further burdening your already overloaded caseworkers. The benefit of digitization in this area reaches all the way up to improved reporting for donors and grants. Better funding can enable an agency to expand services offered.
Higher Data Security
Data security is one of the biggest concerns of non-profits around the world. If you want to protect your agency's reputation, save yourself from financial losses, and avoid cyberattacks, then digitization is the way to move forward.
Lower Costs and More Funding
Digitization can help you save 90 percent of your IT costs. And naturally, seeing an efficient eco-system cultivating at your non-profit agency, donors will be keen to increase their spending towards your cause.
Strategies To Speed Up Digitization in Non-Profit Agencies
Digitization has more benefits than you can imagine. And if you're looking to leverage those benefits, then here are some strategies to accelerate the process.
Determine Your Casework Needs
Any human service that wishes to accelerate its digitization must first identify its requirements. This is because many non-profit organizations choose tools that are insufficient to meet their needs, resulting in a solution that is both expensive and redundant.
Choose the Right Technology
Any human service that wants to speed up its digitization must first identify its needs. When you identify what your organizations challenges, it's easier to identify what technology you will need to improve you processes and workflow.
Hire Tech-Savvy People
In addition to investing in workforce development solutions that help upskill your team, make sure you're also hiring the right people. Modern-day non-profits must recruit tech-savvy case managers and leaders to speed up digitization.
Cultivate a Tech-First Culture
Just training your team isn't enough! It's about time you cultivate a tech-favoring culture in your non-profit sector and convinces your team how digitization can be beneficial for them. Make sure to include team trainings and identify IT people to be a point of contact for your organization.
Use Data to Your Benefit
Data is the most powerful tool we have today. It is past time for human services to use data to improve decision-making and accelerate digital adoption. For example, having the right case management software designed specifically for human services can make a significant difference in faster transformation of your data into a valuable resource.
Show Results to Your Donors
Bring your donors on board with your organization's push to go digital. Showing them the benefits of digitization for your agency and the people you serve can help you secure funding to further your digital goals.
Start Digitizing Today, Reap Benefits Tomorrow!
Finally, you will never reap the benefits of digitization unless you begin now by conducting research and developing a strategy. You can start by checking out digital transformation on the FAMCare Blog.
Global Vision Technologies, the creators of FAMCare Rapid Case Management Software, have been showing human service agencies how to transform how they manage their data for over twenty years. When you are ready, we are here to have a conversation.
Author Bio
The author is a journalist turned part-time philanthropist. The author is keen to learn and write about tech solutions that can improve social service in the US and can help nonprofit agencies increase their efficiency.