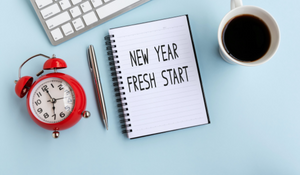 We like to celebrate a New Year when the calendar turns its annual page. We believe that a "new" year offers us another chance to turn the bad into the good. However, case workers who work with the most vulnerable among us know that a "new year" is simply an artifice. Every day that case workers go into the office they believe they have an opportunity to turn the bad into the better. Every day is New Year's Day for case workers.
Caring For Yourself and Your Clients
CW#1 - "When young, idealistic case workers come to work at our agency they are usually angry at society for causing our constituents to suffer so badly, and they intend to do something about social injustice. The old timers' first job is to mentor these ebullient young professionals by nurturing their transition from anger and outrage to hope and persistence. Once they realize that their first day on the job is not "New Year's Day" but rather a "New Beginning" they settle into their career with determination. One thing that I have always admired about the dedicated case workers I have worked with throughout my long career is their determination in the face of constant obstacles."
CW#2 - "I became a therapist because I felt that everyone around me as I was growing up had emotional problems. My mother was a perfectionist who picked on every little thing I did. My father was emotionally distant because my mother picked on him, so he shut off and hid away at work. My older sister was so self-absorbed that she often forgot my name. I saw emotional problems in everyone, and somehow it made me feel bad about myself. So, I became a therapist. I didn't realize I was a terrible therapist until one of my clients, a young fiery Latina said, 'You're a terrible therapist. You never stop talking. I can't get a word in edgewise. Jesus.' I started to cry, and she said, 'You need to see a therapist'. I took her advice and eventually began to see a therapist who helped me understand that I needed to find a new role in social services. Eventually, I changed my focus and went to work as a case worker in Child Protective Services. I continued my therapy sessions with, believe it or not, that fiery, little Latina. However, we switched roles. That's right; she became my therapist, and I still talk in our sessions more than she does."
CW#3 - "If you strive for perfection as a social worker, you're an overachiever. Sometimes you just have to unplug; shut your phone and let those notifications build up."
CW #4 - "After a long day at work, all you have left is your family and your friends. It might not be always possible to hang out with your friends and you might have to choose some people over others but make time for everyone in your life. Especially the people who make time for you."
Welcome to 2023
As we return to work in the New Year, we might heed the advice of the four experienced social workers quoted above. We selected them from a sample of 20 social workers we talked to about the New Year because they, each in their own way, represented the thoughts of all the case workers in the sample that we condensed into a daily mantra for caseworkers.
Caseworker's Daily Mantra
There is no beginning or end to my job. Every day is a new challenge, and the task is never completed. The only measurement of success each day is how much I cared - for my clients and for myself.
What others are reading on the FAMCare blog:
10 Quick Tips for Case Manager Stress Relief
4 Time Management Tips for Social Workers
Holiday Survival Guide for Social Workers