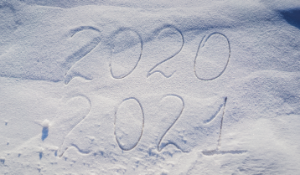 Goodbye 2020...Bring on 2021
2020 will always be remembered as the year of the COVID- 19 pandemic. Not since the mid 14th century, when the Black Plague decimated one third of Europe's population killing 75 million people and ushering in the Dark Ages, has the human race experienced such a natural disaster.
Hello 2021
Although the annual turning of the calendar page is only an artifice, one year giving way to the next seems to instill hope in the human heart. We make New Year's resolutions. We look forward to better times. We use our goals and desires for the new year to obliterate the past year's disappointments and pain. We believe the future will be better than the past. We have hope.
Denial and the Blame Game
Our response to the deadly pandemic that swooped down on us without warning was stubborn denial that morphed into a blame game.
Humans were overheard saying -
"We're beyond this kind of disaster, aren't we? A virus that materialized in a dirty, wet market in Wuhan, China? Well, those Chinese deserve it, but we won't be affected. I won't, anyway. These kinds of viruses only get loose in Africa. Not in America. We live in the most advanced, sanitized civilization in human history. Where are our scientists? How could they let this happen?"
We began by blaming China.
Then we blamed all immigrants for bringing this nasty disease to our shores.
Then we blamed the CDC for not warning us.
Then we blamed our public health officials for not having an adequate supply of PPE.
Then we blamed one another for not taking proper precautions.
Then we blamed Trump for providing confusing, ineffective leadership.
"…This can't be happening. Somebody must be to blame."
Mother Nature Is Taking Us to School
But, of course, denial and blame were in vain. Mother Nature is taking us to school. With a heavy hand, she teaches us that:
Arrogance is a dangerous illusion.
Cooperation is essential for survival.
Avarice leads to paucity.
Kindness trumps arrogance.
Humility trumps pride.
Truth trumps deception.
And the human species is only a small part of the larger natural world.
What You Have Taught Us
As we at GVT look back on the stories we reported throughout 2020, we will heed Mother Nature and take the lessons you have taught us forward into 2021 with renewed hope for a year of healing and redemption. Case workers laboring for little pay and recognition to support the most vulnerable among us have taught us at GVT that there is:
Honor in humility
Value in the vulnerable
Wisdom in generosity
Strength in tenderness
Joy in sharing
Salvation in the moment
If we heed both these teachers, how can we fail to triumph in 2021?
Happy New Year!