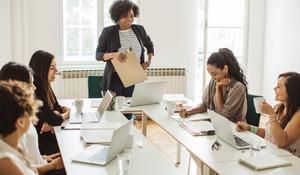 The demand for enhanced productivity inside teams has emerged as one of the top goals for organizations. Case managers in the human services industry are motivated to increase their caseload capacity, take on more clients, and become more involved in their local communities.
However, it's reasonable to say that given the evolving nature of the human services industry and the unique problems faced by social services, simplifying your caseload may seem like a laborious task. We hope that this article will help you streamline your caseload and save you time and energy. This will put a smile on your face and the faces of your teammates!
Make Technology Your Friend
Digitization and technology are at the helm of the current industrial revolution. Take advantage of the plethora of technologies at your disposal and start using the cloud, AI, big data, and case management software solutions. These technologies will help you upscale and upskill your case managers as they take on more tasks.
Automate As Much as You Can
Automation is one of the most important tools that all human services should employ. From intake to documentation and report generation, use case management software designed specifically for the social service sector, that can help you automate the majority of tasks. Again, your case managers will spend less time manually entering data and more time adding value to the lives of their clients.
Reduce the Need for Repetition
Repetition is the enemy of productivity. If your case managers are repeating tasks every day for hours, you're losing money as well as precious man hours. Make every minute count and opt for predesigned templates to facilitate your caseworkers that seek single-click functions for the completion of tasks.
Take Input from Your Team
At the end of the day, one of the main reasons behind the success of social service agencies is the dedication of caseworkers. Surveys suggest that engaged employees translate into productive employees and profitable enterprises. In order for everyone in the team to perform to the best of their abilities without feeling overburdened, it is important to listen to them and decide on a fair task distribution.
Invest in Case Management Solutions
In the end, it all comes down to your case management software. More particularly case management software that is meant for the human services sector. Case management software helps human services agencies take control of their data and reporting. If you're wondering how to get started, then check out our Unofficial Guide to Electronic Case Management. This will provide additional ideas and direction. Finding solutions that allow your staff to spend quality time with your most vulnerable clients without being distracted by paperwork is crucial in our opinion.