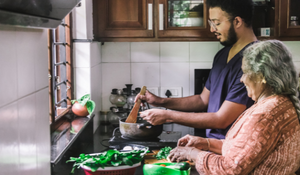 Women are used to putting their own needs on the back burner. They attend to infants, young children, and teenagers, all the while telling themselves that there will be time enough for themselves when their kids are grown. But what happens when an adult child turns out to have mental health concerns, substance abuse disorder, or financial or employment issues? Social workers who work with the elderly tell us that many older mothers are sinking under the weight of troubled adult children. It's hardly a discovery that mothers sacrifice their own needs for the sake of their children. What is news is how this sacrifice continues to affect the lives of older mothers.
A One Bedroom Apartment
One social worker recounted a typical case of a 72-year-old mother who let her 48- year-old daughter with addiction issues and her 20-year-old grandson with mental health issues move in with her in her one-bedroom apartment. "I didn't know what else to do," the elderly mother said. "They were homeless." After six months, she was at the end of her rope and verging on a breakdown when she came to social services for help. "I can't put them out. They would be homeless again. I can't leave myself or they would stop paying rent and cause other mischief that would end in the same result. I can't go on like this much longer or I'll have a breakdown myself. I don't know what to do."
Elderly Mothers Feel Trapped
This case illustrates how aging, mothering, older adult abuse, adult children's mental illness, substance abuse, and unemployment all overlap, and how they can determine the trajectory of a woman's later years. Many clinicians feel frustrated when working with older mothers who, on the one hand, seek services to protect themselves from their adult children, but on the other are unwilling to take the necessary safety precautions. Our one-bedroom apartment mother summed up her feelings like this: "If not me, who?"
One Step at a Time
Social workers who work with elderly mothers living with a difficult or even abusive adult child try to help them understand that this is not necessarily an all-or-nothing choice. There are no models for transforming mothering in later life with difficult grown children, but therapists have been supporting elderly mothers who feel trapped by utilizing a Stages of Change therapeutic model with some success.
The Transtheoretical Model (Stages of Change)
This model operates on the assumption that people do not change behaviors quickly and decisively. Rather, change in behavior, especially habitual behavior, occurs continuously through a cyclical process. The TTM is not a theory but a model; different behavioral theories and constructs can be applied to various stages of the model where they may be most effective.
The TTM posits that individuals move through five stages of change: precontemplation, contemplation, preparation, action, and maintenance. For each stage of change, different intervention strategies are most effective at moving the person to the next stage of change and subsequently through the model to maintenance, the ideal stage of behavior.
Precontemplation - In this stage, people do not intend to take action in the foreseeable future (defined as within the next 6 months). People are often unaware that their behavior is problematic or produces negative consequences.
Contemplation - In this stage, people are intending to start the healthy behavior in the foreseeable future (defined as within the next 6 months). People recognize that their behavior may be problematic, and a more thoughtful and practical consideration of the pros and cons of changing the behavior takes place.
Preparation - In this stage, people are ready to take action within the next 30 days. People start to take small steps toward the behavior change, and they believe changing their behavior (not necessarily the behavior of their adult children) can lead to a healthier life.
Action - In this stage, people have recently changed their behavior (defined as within the last 6 months) and intend to keep moving forward with that behavior change
Maintenance - In this stage, people have sustained their behavior change for a while (defined as more than 6 months) and intend to maintain the behavior change going forward. People in this stage work to prevent relapse to earlier stages.
Elderly Mothers
Though often lengthy and sometimes painful for elderly mothers who cling to moral and cultural beliefs about being good mothers, social workers report that this is the only model that has helped to gradually unburden elderly mothers as they retire into old age.
You can read more about issues/solutions for elderly/long term care on our blog. Enjoy our content? Then please subscribe for instant, weekly or monthly updates!