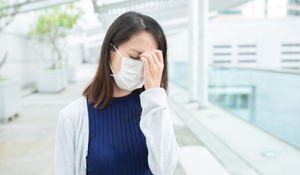 It's been estimated that globally, around 76 million people have been diagnosed with anxiety disorders due to the pandemic. Many of these people were healthy individuals with no previously diagnosed mental health issues. Others were already diagnosed with mental health issues, but the virus served as a trigger for their disorders and made them worse.
Nonetheless, social workers across the US have played an important role in ensuring that people suffering from mental health issues during the pandemic have the necessary psychological support to survive the pandemic.
How Has COVID-19 Worsened American Mental Health Crisis
COVID-19 was an unprecedented situation that halted the entire world and affected almost everyone on the planet. From losing loved ones to the virus and staying isolated, people have dealt with a lot of challenges in these past two years.
In the very beginning, many people suffered from anxiety due to the overwhelming numbers of people succumbing to the virus and at times, a lack of information from authorities. The fact that so little was known about the virus alone was a major source of anxiety for many.
Moreover, people had to socially distance themselves, and the isolation was overwhelming for people with pre-existing mental health issues. Being away from loved ones aggravated their emotions, and they often felt lonely and depressed. Many of us also lost our loved ones to the pandemic without proper goodbyes or time to grieve.
For others, the pandemic brought major financial repercussions as workers were laid off, and businesses were shut down.
All of these factors combined took a major toll on the mental health of many, including some of the strongest people we may have known.
How Have Social Services Organizations Managed to Keep Things Steady
Another major problem that came up during the pandemic was that people were initially completely cut-off from their sources of care. For example, those who were already diagnosed with mental health issues and were going to therapy regularly, temporarily found themselves unable to go. Then both mental health agencies and patients had to adjust to the new normal of online services.
Moreover, it was soon apparent there was a serious shortage of mental health experts in the US, while the numbers of people requiring mental health support were growing at an unprecedented rate.
But regardless of these challenges, social services organizations specializing in mental health care came through for the US population. Mental health experts in these social services organizations continued to strive to help people deal with the pandemic.
Managing the changing environment during this pandemic has proven challenging for many agencies. Some organizations were able to manage these larger caseloads and do so virtually with the help of mental health case management software.
If you would like to find out how our human services software, FAMCare, can provide your organization with real solutions then please visit, Clients We Serve.