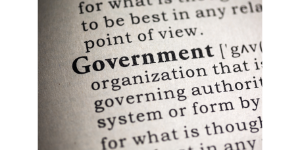 Government social service agencies are transitioning from being providers of services to entities that predominantly commission, facilitate, or broker services. This transition requires new skills in government – such as agility, innovation, transparency and connectedness – and new capabilities for facilitating relationships with external partners – such as flexibility, co-venturing, co-creation.
Silos
Public sector organizations are often comprised of poorly coordinated fiercely independent bureaucratic structures that have come to be known as "silos" in common usage. Unfortunately, due to these historically established bureaucratic structures, service sectors like child welfare, juvenile justice, or education, to name a few, are separated into hard sided "silos" throughout governmental organizations. Cooperation and shared information are often hard to come by.
Silos are also erected by different functional modalities like thinkers or planners or doers. Originally, these silos were created as a way to structure processes and manage human capital. However, each service sector and functional mode eventually became possessive of their data as a way of ensuring their individual viability and independence, as well as ensuring the confidential nature of client information. This separation and independence are now the norm between government agencies and outside, third-party providers, as well as separate internal government agencies.
Increased Efficiency and Personalized Service
To deliver services more cost-effectively, governments are turning to "outsourcing" as a way of accessing external expertise from the private sector and "insourcing" services from other government entities as well.
To improve the efficiency of the public sector and governmental institutions, silos must be punctured, and shared information become the norm. But finding a way to integrate service sectors and functional modalities that exist in a traditional siloed world of information is no easy task.
Taking Down Silos and Integrating
In order for government social service agencies to integrate services across siloed internal agencies and share information efficiently and safely with outside providers, an entirely new perspective must be adopted that facilitates:
Greater cross-governmental collaboration
Project-based task management
Transitioning from providers to facilitators to create affordable government services.
Diverse inter-organizational service units must be integrated to foster knowledge sharing and cooperation as well as grow scalability.
In order to fulfill the new personalization of services ambition, governments and public sector organizations need to invest in technologies and innovations to improve processes and outcomes.
Conceptual thinking must transition government agencies characterized by large-scale, standardized solutions to solutions that develop more intelligent, interactive focusing on individual needs.
Let's Change Our Ways and Get On Board
In the past, government social service agencies were independent, suspicious, and competitive. These natural human instincts provided a rational that insisted each individual government agency knew what was best for "their" clients. Letting other agencies or outside providers see confidential client information without careful vetting was out of the question. "They may abuse or be careless with the information and harm "my" client."
This possessive, suspicious, competitive attitude is stifling creativity, limiting efficiency, and harming clients by effectively denying them services that only a fully integrated social service system can provide.
It is now time for all professional government social workers to help advance the transitioning of the old fashioned, large and cumbersome government social service agencies away from being providers to becoming facilitators. In our modern society, the needs of our clients are more complex requiring the services of specially trained therapists, psychiatrists, social workers, and other medical professionals with the help of law enforcement and an informed and efficient court system. The sheer volume and complexity of the task is screaming for a highly integrated system of specialists working together across agency lines to provide the best care possible. We are aware that many technical and ethical details must be worked out to ensure integrity across our entire social service system.
So, let's get on with it!