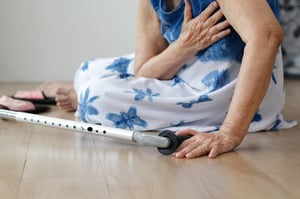 Our friend, Kent Elliot has submitted a great guide to our blog that I wanted to share with you today. Read on to learn about fall prevention best practices that can help seniors age in place safely. In the article he covers a variety of topics, including which home modifications help prevent falls, tips on lifestyle changes that aid in fall prevention, and more.
A Quick Guide to Fall Prevention When Aging in Place
Aging in place has several benefits, but it also comes with its fair share of risks. The threat of a fall injury is a frequent concern for both seniors and their loved ones. And for good reason— falls are the leading cause of injury among seniors. Fortunately, there are many things you can do to minimize your risk of suffering from a fall in your home. Don't hesitate to implement these safety ideas so you can age in place with health and happiness!
Improve Your Strength, Flexibility, and Balance
One of the best things you can do to reduce your risk of falls is exercise. According to a recent research review, exercise can reduce a senior's fall risk by about 23 percent. Balance and resistance exercises are best for reducing the risk of falls. After all, it's strong muscles and good balance skills that will catch you if you start to take a tumble. And, if you do fall, it's flexibility and strength training that will reduce your chances of straining a muscle or breaking a bone.
Just be sure to talk to your doctor before you start a new form of exercise. Once you've got the all clear, try out some of these exercises recommended by Closing the Gap Healthcare. Yoga and tai chi are also excellent options, especially if you'd like to exercise in a guided class. Fortunately, many healthcare coverage plans will cover the costs of wellness programs.

Make Home Adaptations
Remove Hazards
Certain home adaptations can also help prevent falls in your home. The first thing you should do is remove any potential hazards from staircases, hallways, and any other paths you take through your home. Hazards to watch out for include cords, coffee tables, shoe racks, loose floorboards, and throw rugs.
Improve Lighting
Next, make sure your home is well-lit. According to DailyCaring, updating the lighting in your home is one of the quickest ways to prevent falls and remain independent. Walk through your home and note any areas where the light is too dim for you to be able to see clearly. Don't forget to do this again at night! Motion-sensor lights can be useful to illuminate these dim areas. Also, consider getting lamps that turn on at the touch of your hand. These are a great idea for people with arthritis.
Install Fall-Prevention Features
There are several features you can add to your home to increase safety. For example, installing grab bars in your bathroom and bedroom can make it easier for you to get up and down from a seated position. You may even install long bars along hallways, so you'll have something to hold onto if you start to feel dizzy. Consider also replacing some of the flooring in your home with non-slip flooring. Alternatively, you can add non-slip mats to areas where spills are common, like in the kitchen and bathroom. If your bedroom is on the second floor, it might be worthwhile to consider a chair lift down the road if you can't move your bedroom to the first floor. Original Medicare does cover Durable Medical Equipment (DME), however, like walkers, canes and lift chairs, which can supplement the safety features you add in your home.

Pay Attention to Your Clothing
Finally, your choice of clothing can also impact your fall risk. Wearing socks can be dangerous, but you should also avoid wearing shoes that are loose, worn-out, backless, high-heeled or slippery-soled. Choose solid shoes that fit comfortably, support your feet properly, and have non-slip soles.
When it comes to the rest of your clothing, choose pieces that are not too loose or too tight. Loose clothing can easily catch on things as you move about the home. On the other hand, tight clothing can cut off circulation and cause lightheadedness.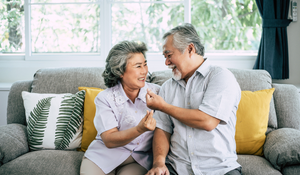 Taking preventive steps to reduce your risk of falls is much easier than recovering from a fall injury. While these tips can help reduce your chances of suffering a fall, it's also a smart idea to talk to your doctor about your health. Certain medications or health conditions may contribute to dizziness and put you at greater risk. No one should have to live in fear of falling!
For additional information please visit:
National Council on Aging: Home Safety for Older Adults: A Comprehensive Guide 2023
Editor's Note: This post was originally published in May 2019 and has been completely revamped and updated for accuracy and comprehensiveness.