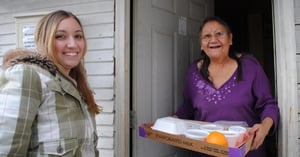 Increasing Demand…
Meals On Wheels, which delivers meals to the elderly in their homes and at senior centers, has seen demand for their services explode since the pandemic started.
When COVID-19 hit, a staggering 89% of Meals On Wheels programs reported increased demand for meals, practically overnight.
79% of Meals On Wheels programs saw their demand double.
Older adults who were mobile prior to the pandemic can no longer safely go to stores to buy their own food, and many do not have loved ones close by to help them through this time. Add this to the roster of seniors who were already homebound.