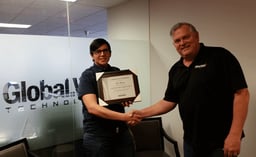 We're running our last Master Certification training of the year on November 30, 2020. Given the significant effect of COVID-19 this year, we are extending a generous bonus offer to our current clients!
Virtual Master Certification?
Instead of 2 full days of training in our St. Louis office, we are offering virtual Master Certification delivered through a series of LIVE Zoom presentations in early December. This change provides greater flexibility in how we train and help students manage their training, and how they are certified.
BONUS Free Session
Each of our Master Certification courses typically ends with a Special R&D Session that details upcoming features and advanced tools. For this last Master Certification of the year – we are offering this special half-day session for free.

Essentially, we're pulling back the curtain from the GVT Technology Labs (a little early) and giving you a preview of what's to come. Grab a sneak peek with our Chief Technology Officer as he reveals exciting new tools we'll be offering with FAMCare in the future.

If you've already attended Master Certification in the past – that's great! We want to share this as an opportunity to see what can be done with these new tools.
If you've NEVER attended a class – then this is a great opportunity to see what you might have been missing, and see what Master Certification is all about – by attending our R&D session for FREE.
What is Visions Server/FAMCare Master Certification Training?
Visions Server Master Certification training is the fastest and most productive way to take your FAMCare system "to the next level". It is the most cost-effective way to update, modify and scale your FAMCare system!
Here are some great examples of when having your own certified developer makes sense:
NEW STATE REGULATIONS… require new State forms to be added to your FAMCare system. What do you do? Call GVT and request additional programming OR ask your Master Certification Trained technician to make the changes for you?
STARTING A NEW INITIATIVE - requiring 15 new data entry forms and several advanced reports...
NEW IDEAS & UPDATES… that require new workflow to automate a function or help caseworkers be more effective; new custom reports on a dashboard for your board of directors or funders...
It's a common thing that at least once in a client's FAMCare journey – something inadvertently must change, be created, be upgraded or analyzed and the software made need something new. Having a local resource to help make those changes can be a great investment.
Join our Special R&D Master Certification Session-FREE. Please register here, scroll down the page to the form and make sure you check the second box.

It's a great opportunity to "test the waters" and see what Master Certification is all about. If you're interested, just get on our list and we'll forward the meeting information to you.

Once registered - we'll send you a special ZOOM link with the time of the meeting. The Special R&D session is currently set for Friday, 12/11.