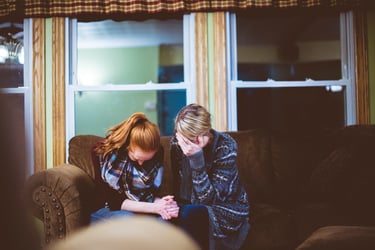 Case workers who will not abandon their clients die along with them in the nation's hospitals. Even though advised to go home by medical professionals, these dedicated social workers didn't leave when the pandemic broke out.
Catherine Drouin, 69, of Methuen, Massachusetts, who worked for more than two decades as a social worker at the Palm Center nursing home, died April 27 at Holy Family Hospital in Methuen, family members said Sunday. "She was always above and beyond in her job; she was never selfish," said Dennis Drouin her husband of 42 years. "She was always so caring, she never stopped, even when she got sick."
Peggy Ndubisi died alone on April 24 from the coronavirus at age 59 following a life that included nearly 30 years as a social worker. Peggy, a naturalized citizen who arrived in New York City as a foreign exchange student from Nigeria in 1980, made it her life's work to help others. Even when she found herself homeless, she would shower at the Y and still go in to work to support those in her care. Her family back in Africa is now seeking help to have Peggy's remains returned to her loved ones.
After earning a degree in psychology from Towson State University in 1993 and a master's degree in human resource development and social work from Bowie State University three years later, Jackson Harpool worked in her native Baltimore at the Johns Hopkins Broadway Center for Addiction, at Behavioral Health System Baltimore and at Health Care for the Homeless. Working through the onset of the pandemic, Jackson contracted the corona virus and died of complications of covid-19 this month at the University of Maryland Medical Center.
Chantee Mack continued working in the Prince George's County Health Department's sexually transmitted disease clinic, informing people of their test results until she finally contracted covid-19 herself and died a few weeks later.
Calvin Richardson worked at Veterans Affairs Medical Center in Washington where he was an addiction therapist who ran substance abuse recovery groups and did case management. He stayed on the job till he developed symptoms and died shortly after of corona virus in the hospital.
Why Social Workers Died
"Social workers are essential workers on the front lines providing much-needed, in-person mental health care in numerous settings, ranging from hospitals to nursing facilities to family homes. They are also instrumental in attending to the social needs of patients that must be addressed to help ensure recovery, such as access to nutritional food, reliable transportation and safe housing" said Angelo McClain, Ph.D., LICSW, Chief Executive Officer of NASW.
We Honor Them By Carrying On
"…The world will little note, nor long remember what we say here, but it can never forget what they did here. It is for us the living, rather, to be dedicated here to the unfinished work which they who fought here have thus far so nobly advanced. It is rather for us to be here dedicated to the great task remaining before us -- that from these honored dead we take increased devotion to that cause for which they gave the last full measure of devotion -- that we here highly resolve that these dead shall not have died in vain…" (Abraham Lincoln, November 19, 1863)