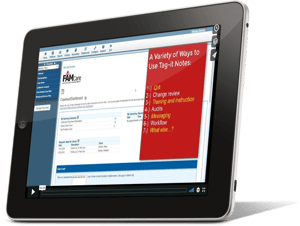 I just shot a quick video overview of one of our newest, fun communication tools that seems to continually get new, cool features added to it regularly.... TAG-IT Notes.
What are TAG-IT Notes?
Well... remember Post-It Notes? If you're like me, you still use them. One of the greatest inventions known to mankind. And if you're ever wondering about how the post it note was invented... you should check out SNOPES. Post-It Notes save lives! I can leave myself (or someone else) a quick message on their computer monitor to get something done. And that's what TAG-IT Notes do, but they take it up to another notch.
TAG-IT NOTES are Interactive.
Yes, more than just "posting a note"... they really are a two-way messaging and notification "system". You can notify someone of an update and change and the user can comment back as needed.
TAG-IT NOTES Improve Productivity for Caseworkers.
Watch this short video and see how you too could use TAG-IT Notes in your FAMCare system. Here are just a few ways clients have been using TAG-IT Notes:
When configuring your forms - as a way to share updates with your team for them to go in and review.
For QA - auditing and checking records with TAG-IT notes provides a two-way communication to advise and notify the worker of the change with feedback and interaction.
For Training - placing notes on a screen can add instructions for a new user
Introducing new directives - add a note to inform the team of a change
Internal Text Messaging - adding a note and sending it to a user, where the user can respond immediately with back and forth communication.