The Salvation Army's soldiers ringing their bells in front of stores and on street corners all across America and, indeed, the entire western world, are as much a part of our traditional Christmas tableaux as the Christmas tree, Santa Claus, the front door wreath, and snowy country scenes enlivened with horse drawn sleighs and seasonal music celebrating family love. The Salvation Army has simply always been a part of this Christmas scene.
What Are They Doing There?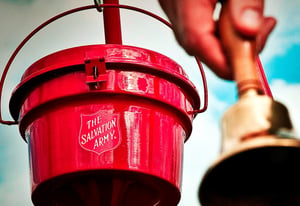 In the U.S. alone, over 25,000 volunteers with red kettles are stationed near retail stores during the weeks preceding Christmas for fundraising. Just like everyone is familiar
with the Christmas tree but has no idea where it comes from or why it's erected in our living rooms every year, few contributors know who the Salvation Army is or why they erect their familiar camp tripod in front of the supermarket during the Christmas holidays. Most have a vague idea that they are a charity of some sort but almost no one realizes that they are one of the world's most enduring and compassionate nonprofits that seek out and support the needy in a wide variety of situations around the entire world.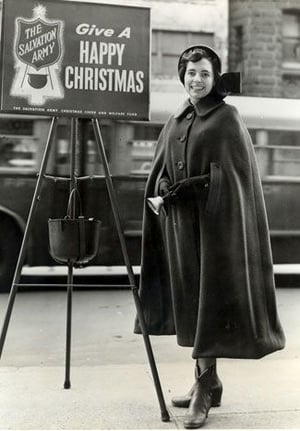 Who Are They?
The Salvation Army is a Christian church and an international charitable organization with a worldwide membership of over 1.7 million "soldiers". It runs charity shops, shelters for the homeless,
and disaster relief and humanitarian aid in 131 countries.
Why an "Army"?
Founded by William and Catherine Booth on July 2, 1865, (154 years ago) as the East London Christian Mission, the Army sought to bring salvation to the poor, destitute, and hungry by meeting both their physical and spiritual needs. A peculiarity of the Army is that it gave its members titles of military ranks, such as "lieutenant" or "major". Its main converts were at first alcoholics, morphine addicts, prostitutes and other "undesirables" unwelcome in polite Christian society. The Booths decided to form an "army" to "combat" these ills.
What the "Army" Fights
After 150 years of service, the Salvation Army provides the following services in 131 countries around the world.
Thrift Stores
Charity Shops
Adult Rehabilitation Centers – (6-month program to combat addiction)
Farmland at Hadleigh – (Founded in 1891 to provide training for men in market gardens, orchards, and two brick fields. It is still operating today.)
Summer Camps for Children
Silver Crest (elderly) Residences and adult day care centers
Homeless hostels
General and Maternity Hospitals
Schools
Food Pantries
Overnight warming and cooling stations (homeless)
Disaster Relief – (Began with the Galveston Hurricane of 1900 and the 1906 San Francisco earthquake. Today the Salvation Army is usually among the first to arrive with help after natural or man-made disasters.)
Emergency Services Support Units - (mobile canteen vehicles providing food and other welfare to members of the emergency services dealing with brush fires, floods, and land searches. In 1917, over two hundred-fifty Salvation Army volunteers went overseas to France to provide supplies and baked goods, including donuts, to American soldiers. The women who served donuts to the troops fried them in soldiers' helmets. They were known as "Donut Lassies" and are credited with popularizing donuts in the United States.)
Family Tracing Service - Started in 1885, the service, available in most countries where the SA operates, restores family relationships where contact has been lost. Thousands of people are traced every year on behalf of their relatives.
Merry Christmas to the Salvation Army
We had no idea! You are an enduring part of our Christmas celebration. Now we know why.